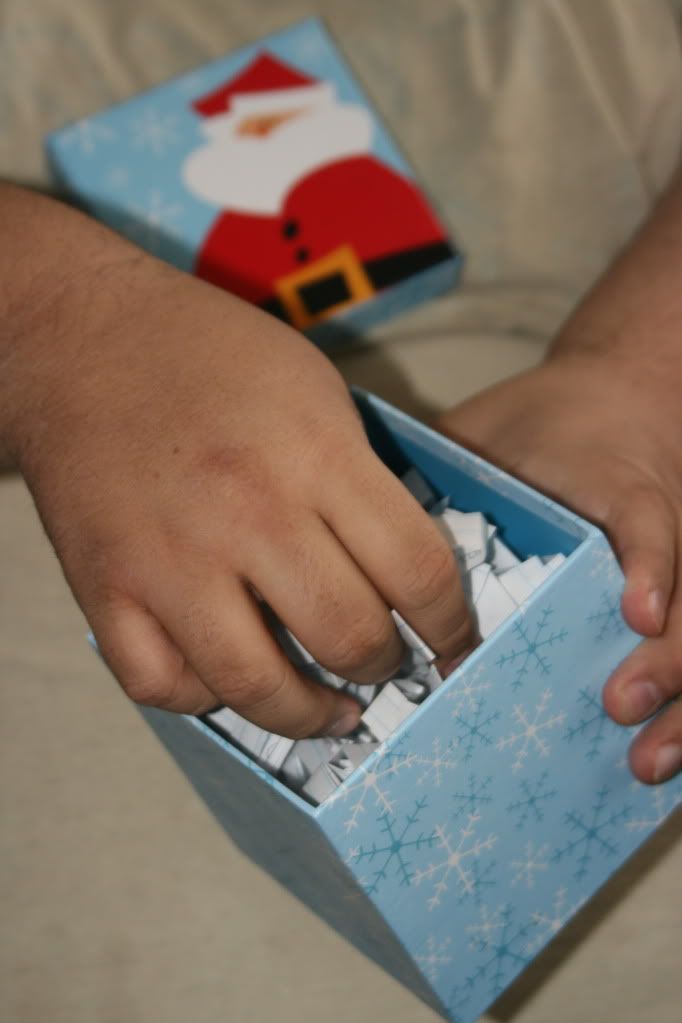 Me picking the first movie!
First thought was that it could have been worse. It's not one of my movies, it is one of my wife's but it could have been way worse (see previous post!). The magical movie box (previous post) is proving that it is the boss. It chooses. It showed that while I am going to have to watch one of my wife's movies first, it could have been way way way way worse!
notice the thrill on my face.
So, I drew Sleepless in Seattle. It's the classic movie of a widower (Tom Hanks) whose son calls a nationwide radio talk show and tells the world his dad needs a new wife. Then the journey to love begins. So many things are running through my head right now. The movie came out in 1993. I was junior in High School! I think I have seen this movie one time--maybe. Don't get me wrong, I love me some Tom Hanks. Less than a year after this movie is released Hanks gave us Forrest Gump! I'm a big fan of both Joe vs the Volcano and You've Got mail. But something about this one I don't like as much.
I think the thing that bugs me is that there is no interaction between Hanks and Ryan at all until the very middle (for like a second) and not again until the very end. The best part of the Hanks/Ryan combo is the chemistry between them. So to me this movie isn't as good as the others because it lacks that element. Not too mention HOW UNBELIEVABLY UNREALISTIC this movie is! Now, movies aren't meant to be 100% realistic all the time—I know that. There are no Jedi in real life, there is no asteroid heading to earth and I'm pretty sure there are no magical gnomes riding around in cars. With that said, there is no way a 9 yr old can fly across country by himself?!??! Really?? No one, at either airport, checked this story out? The kid spent all day asking strange ladies if they were Annie and no once got suspicious? This is too far for me. Plus the movie drags a bit in the middle. Lots of conversation, very little "action" you would say but hey I'm not a critic. So ultimately I have no decision on if I should own this movie or not. That is my wife's choice; she paid the 5 dollars for it. But for me, its no You've Got Mail!
Other Tidbits
-Rosie O'Donnell plays a straight woman who's married to a guy named Rick
-David Hyde Peirce plays a small role in the movie. Pre-Frasier fame.
-Bill Pullman is still a horrible actor.
-Best and funniest scene to me, where I actually laughed out loud, was the scene where he calls and asks Victoria out on a date. That was great Hanks!